Welcome to Tactical22.net:
The Tactical 22
2008 saw the American release of the German Sport Guns GSG-5 .22 long rifle carbine. The GSG-5 is a visual clone of the HK MP5 and compatible with many of the MP5's accessories. Since its release the GSG-5 has been flying off dealers shelves faster then they could be imported. Recognizing a fast growing shooting market's sales potential several other firearm manufacturers Colt, Smith & Wesson, Sig Sauer and Walther have since announced the released their versions of military styled rifles chambered in .22 long rifle. This new breed of .22's has started an entirely new genre of .22, the "Tactical .22". These .22's whether rifle or handgun are designed to replicate the look and feel of their center fire counterparts while also maintaining compatibility with the same accessory add-ons such as optics,rails, foregrips and stocks that shooters are accustomed to. These new Tactical 22's are a great training aid and just plain fun.
Now detractors will find the price for these weapons a little high in $500 to $600 range which is about twice the price of a Ruger 10/22, and you can build a pretty cool 10/22 for $600. AR-15 fans can buy a dedicated .22 upper receiver in several configurations for a little more then one of these .22 rifles complete. This will net you an AR-15 that cost you about $1100 to shoot .22 long rifle. In my opinion that's fine if you have an extra lower receiver that's not being utilized or you are shooting competitively and need the accuracy of a match barrel. Personally I want both so its a non issue. For the purposes of this web site we will include all versions of .22 long rifle AR-15. See some AR-15 .22 lr conversion info here
---
The tactical22.net forum and all of its content are at a new domain Rimfireworld.com. The forum can be located by clicking here. The old site will not be updated. The old content will be migrated here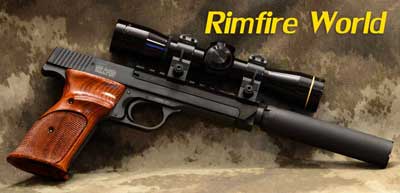 ---

At one of our sister sites 308AR.com a few forum members were kind enough to take on the responsibility of the official 308AR.com Facebook page. Recently on the forum we began gathering images and content to utilize on the 308AR.com Facebook page. If you have anything to contribute please join the forum and help us out. If you are already on Facebook be sure to "Like" us.
---
j

---

It's becoming common for shooters of precision centerfire rifles to have a trainer rifle in .22lr that has similar style, form and function of their primary weapon. One of the popular choices as a base gun is the CZ 452 AMERICAN chambered in .22LR. After a bit of thought I decided that a .22 trainer would be a fun project for TACTICAL22.net.
You can follow along with the project progress here.
---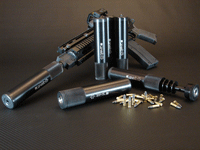 Just got the word from Joel Cramer of Remarkable Arms that he has in his possission my TACTICAL ARMZ STRYKER B.A.C 22 SILENCER. The TACTICAL ARMZ STRYKER B.A.C .22 SILENCER is unique in two ways. The first being size. The TACTICAL ARMZ STRYKER B.A.C 22 SILENCER is sized proportionate to 5.56 centerfire counterparts. This means your AR15 22 does not have to look wimpy with a puny little .22 silencer attached to the muzzle. In fact B.A.C stands for BIG ASS CAN.
The other unique thing about the TACTICAL ARMZ STRYKER B.A.C .22 SILENCER is the cost. It's well over $100 cheaper than the competition.
Sadly it will be 6-8 months before I have it in hand.
Length x Diameter 7 x 1.5
dB reduction 28 - 32
Weight 10 oz
MSRP $325
---
Brownells is offering three interest products from PLINKER TACTICAL that should please S&W M&P 15-22 Owners.

10 and 35 round magazines for the S&W M&P15-22
Polymer construction
Impact and solvent resistant
Sonically welded, no screws or exposed springs
Matte black finish
Spring and follower are removable via the removable floor plate
Load Assist device available
SPECS: Fits – M&P15-22. Capacity – 10 or 35 rounds of .22 Long Rifle. Polymer construction, matte black.

100% aluminum construction with a steel ambidextrous latch
Ambidextrous design allows for quick handling for any shooter
Latch comes with enhanced spring to ensure positive lockup
Significant upgrade over the factory charging handle
Matte black finish
Fits – S&W M&P15-22. Matte black, aluminum and steel construction.

Magazine Load Assist to be used with the Plinker Tactical S&W M&P15-22 Magazines
Allows for faster reloads
Easier reloads
Polymer construction
Loading of the 35 round magazine is made easy
---
There is a lot of false information on the Internet with regards to silencers being legal. In fact they are legal almost everywhere in the US and you can own a silencer if you can legally possess a firearm. You will need to do a bit of homework to see what you need to do in your jurisdiction but typically the process goes like this.
You need either a sign-off from your local chief LEO or a better approach is to visit an attorney and have a revocable trust written specifically for you. The trust is a good way to not only get the NFA items such as silencers and short barreled rifles but it can also protect your collection from life's disasters, legal troubles and angry ex wives. It's my opinion every gun owner should have a trust. To have an attorney make a trust will cost you about $500-$750. As a side note some gun shops have "in house" attorneys that write boiler plate trusts inexpensively, $100 or so. Keep in mind while these simple trusts might work for you to purchase a silencer they may not properly protect your collection. It's a trade off. There are guys who have used Quicken Will Maker to create trusts themselves. There are also stories of the BATFE wising up to that. See an attorney.
I'm going to assume you have gone the trust route. You simply go to your local Class 3 dealer and buy a silencer. If the dealer has one on hand great. If not he will order a silencer for you. The dealer will help you fill out the proper federal forms. The dealer will also advise you on what to send to the feds with regards to your trust. It seems the BATFE examiners aren't all using the same play book. To that end your dealer will most likely tell you to include a complete copy of your trust along with your Form 4 for the BATE. In the package you will also include a check for $200. That $200 is for a tax stamp from the BATFE. You will mail out the package that includes the trust, the form 4 and your check for $200. It is advisable to send the package in a way that there is delivery confirmation.
Once that's all done you simply wait a few months for BATFE approval. Once approved the BATFE will send your approved paperwork with you tax stamp affixed to the dealer you bought your silencer from. The dealer will give you a call to pick up your silencer. Once you there you will fill out the same paperwork you would for any gun purchase. Once that's completed you can take your silencer home.
You can use the trust for as many NFA items as you want. You will need to spend the $200 on every silencer you buy. This means without the cost associated with the trust a .22 silencer will cost you from about $250-$399 + $200 fr the stamp.
Here is a few helpful links.
---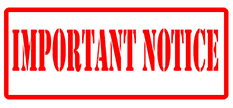 TACTICAL ARMZ is now a sponsor of the TACTICAL22.NET FORUM. But wait there's more. TACTICAL ARMZ are also now active members of the community participating in hot topics and sharing there knowledge of silencers and general firearms discussion.
---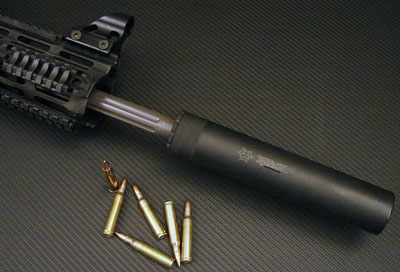 Tactical Armz
Old "new kid" on the block
Contact: Bill Moll
tacarmz@sbcglobal.net
Source:(Combatrifle.net)After years in the relative darkness of R&D and special projects, Bill Moll of Tactical Armz, (a division of Lutheriecorp Inc.), announces the launch of their civilian consumer products group at www.tacticalarmz.com .
Primarily involved in firearms suppressor and weapons systems research and development for military and law enforcement applications, Moll is convinced that the American consumer can, and should, be able to acquire very high quality, and yet very affordable NFA firearms and suppressors for personal use.
"With state of the art computer aided technology", Moll says, "economy of scale is maximized while very tight tolerances can be held easily". Going on, "There is absolutely no reason why a highly efficient, and superior quality can needs to cost an arm and a leg."
Tactical Armz produces sound suppressors in all of the most common calibers starting at an MSRP of $225. and offers custom, one off, work as well.
For more information see: www.tacticalarmz.com
---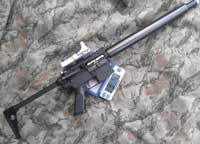 Some time back in late spring I received an email from Tim at TACCOM LLC. Tim was interested in doing some advertising here on the site and forum. Tim and I had some communication one evening but unfortunately the conversation quickly got lost in the mountain of messages I receive on a daily basis. Fast forward to late July and my new mobile phone. While setting up email on my phone I stumbled across my earlier conversations with Tim. Since that time we had some brief email exchanges but have not spoke in person. Well tonight I was browsing the new products section of the Brownells website and I noticed that they are now stocking Taccoms unique and interesting .22LR offerings for AR-15 based .22's.
Taccom's primary .22lr AR15 offering is for shooters searching for the lightest and most accurate rifle possible. I plan on building a .22 AR15 based on the following parts shortly.
17" ULTRA LITE WEIGHT (ULW) 22LR BARREL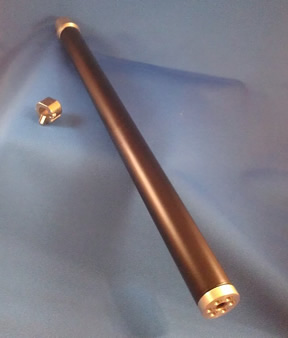 A sub pound barrel for your AR15 22LR conversion. Coming in at about 14 ounces, we feel that it is quite possibly the lightest 17" barrel that is available for your conversion. This is a composite barrel featuring a 416SS breech, stainless barrel surrounded by an aluminum shroud that has been powder coated to flat black finish and a machine finished aluminum cap that sets the barrel in tension. The barrel will keep cool too as we have vented the cap and that back end of the shroud to promote a convection air flow over the barrel to keep temperatures down. We doubt that you will ever feel much heat on the shroud itself. Tensioned barrels allow you have a lighter barrel that will not whip and you will be surprised at just how accurate these barrels can be with right ammo selection! This barrel's main attribute is being so light that it will allow you to come up on target fast and your target transition times will decrease as well.
TACCOM ULTRA LITE WEIGHT (ULW) BUTTSTOCK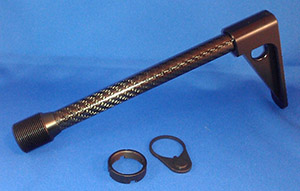 Hands down the lightest, butt stock available! And even though it's extremely light weight, it doesn't give up anything in strength!! Designed to be used with any AR15 that DOES NOT REQUIRE A BUFFER AND SPRING. This Butt Stock comes in at under 5 ounces, perfect for building that light weight 22LR AR15. Comes with a spring loaded ball plunger, to push your Ciener, CMMG, Spikes style 22LR insert forward to stop light strikes and cushions your insert to help keep it from pounding your upper receiver. Made from composite materials, this features a carbon fiber rod, delrin butt plate and attaches just like a carbine butt stock with the standard hardware included.
TACCOM ULTRA LIGHTWEIGHT HANDGUARD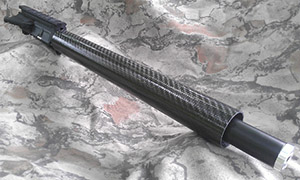 AR15 Ultra Lightweight Carbon Fiber Handguard
Designed for use on any AR15 that uses a blowback action
Perfect for a lightweight .22 Long Rifle or 9mm build
Weighs just under 6 ounces
1-5/8" OD
13-1/2" length
Will not work on any upper that uses a direct impingement gas system or piston system
Uses standard AR15 barrel nut wrench for installation
---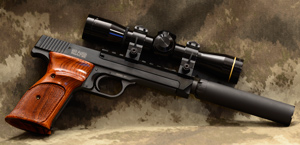 Finally received all the parts to make my early 1990's Smith & Wesson Model 41 a Suppressed Tack Driver. Click on the picture for a larger image. Click here for a big high resolution image.
Specifications:
SMITH & WESSON MODEL 41 .22lr
CLARK CUSTOM GUNS THREADED 5.5" STC SPORTSMANS TEAM CHALLENGE BARREL
SILENCERCO SS SPARROW SOUND SUPPRESSOR
SILENCERCO SPACER
LEUPOLD FXII 4x PISTOL SCOPE
WOLFF SPRINGS RECOIL CALIBRATION PACK
---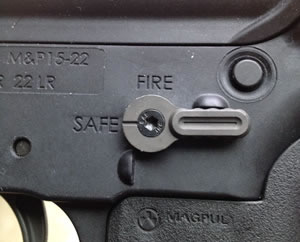 Friend of this site and manufacturer BATTLE ARMS DEVELOPMENT is now offering a version of their BAD A.S.S for the S&W M&P 15-22. For those who do not know the BAD ASS is the best AMBIDEXTROUS SAFETY SELECTOR available for the AR15, AR10 and 308 AR weapon platforms. Read the reviews at Brownells. The S&W version is not available through the website. Contact them directly at their site or track Roger down at the tactical22.net forum.
---
I'm writing this a few days before the 4th of July, 2012. It seems with an election looming we are once again in a position where firearms, accessories and ammunition are getting hard to come by or have had their prices substantially inflated. This has really made it difficult for me to acquire some items as the relate to site content.
The suppressed Clark Custom Smith&Wesson Model 41 is in need of a proper optic. My aging eyes are beginning to struggle with some dot style scopes so I am seeking a traditional handgun scope. That scope a Leupold FX-II Pistol Scope 4x 28mm Duplex Reticle is in constant short supply.
Next up is either a threaded barrel bolt action .22 from either Savage Mark II FV-SR or CZ 452. Again both are in short supply. Lastly for years I have longed for a Smith & Wesson 617 10 shot .22LR revolver. They are available but expensive, coming in at nearly $700.
---
I was speaking with a new friend the other night and he had mentioned that he had an AR-15 with a dedicated .22lr upper receiver. During our conversation he mentioned that the factory trigger was terrible and he needed to replace it. He also mentioned that he did not wish to spend a lot of money because "It's just a .22". It's unfortunate that a lot of shooters have this mind-set and it is a mind-set I do not agree with for two reasons. First of if your an AR-15 guy and you train, compete or just live the platform why on earth would you not want all your AR-15's to have similar trigger pulls for the sake of muscle memory. Now I understand there are many folks who just have one or two AR-15's with the factory triggers and the previous statement does not apply. I will address you folks and everyone else in the next few sentences.
AR-15 .22 TRIGGERS:
A tech for a large manufacturer of AR-15's for both civilian and military applications was asked on a forum why his company's triggers were so bad. His response while did not surprise me the truthfulness of his response on a public forum did. He stated in the simplest of terms that the only reason they include a trigger on their weapons was so shooters can fire the weapon the day they bring it home. In fact the expect you will replace the trigger as the first order of business.
That above statement is the meat of the point I am trying to make here. Your .22LR AR-15 in many cases will see more rounds go through it than any other weapon you own. Why would you not want it to perform the best it can?
AR-15 .22 TRIGGER COST:
I hear the reader groans already "But AR-15 triggers are so expensive". Let me put it to you this way. Don't waste your money on handguards, tactical lights, pistol grips, paint or even good scopes without addressing the trigger first. FORM MUST FOLLOW FUNCTION. There is no other single modification you can perform on the AR-15 platform that will increase your accuracy to the degree a new trigger will.
Now I am not saying every shooter should run out and buy the most expensive AR15 trigger or the cheapest AR15 trigger. You need to find balance within your means. I do feel that most triggers worth buying will be in the $129-$189 range. There is just no way around it.
If you cant afford even a $129 trigger then by all means get something like the ALG which is essentially a high quality factory trigger. Are they competition grade? Of course not. Are they better than a factory trigger? yes.
I have written opinions on several triggers at my other sites. Feel free to browse for suggestions. Be sure to browse the project pages at the sites for further information.
Lastly being a .22LR AR-15 owner the after-market trigger options are a HUGE advantage over the .22's based off airsoft rifles.
---
CCI Ammunition is offering Quiet-22, a type of ammo that has such a quiet "bang" that it's touted as ammo you can shoot it without hearing protection.

The CCI Quiet-22 would find itself in somewhat of a niche market, meaning it would appeal to those interested in shooting suppressed firearms or hunting small game. But it would also be advantageous for those who just want to take care of some pests ruining the garden.

According to CCI Ammunition, Quiet-22 is 75 percent quieter than normal .22 ammo and has a better performance than an air rifle. Also, because of how quiet it is, it would be beneficial to use in legal shooting areas where noise may be a concern.
There are a few drawbacks that you have to deal with if you plan on shooting Quiet-22 ammo, however. In order to get a lower volume they have to pack the bullet with less aggressive explosives, which results in a slower bullet. The company promises that their bullets travel at a velocity of 710 feet per second (by comparison, high velocity rounds move at closer to 1,200 fps). So, for a lot of gun owners, the low velocity may take some getting used to.
---
I have been enjoying my CMMG SIERRA mated to my COLT SPORTER for a few years now. I cant speak well enough of how much I enjoy trigger time with this combination. That said I still often wish for something different, something other than an M4 configuration and something I could assemble myself exactly like I want without having to go to a custom shop. Give me premium barrels from folks like Douglas or Shilen, give me barrel length and diameter options, give me finish options. Shooters like variety and they want their .22 to be a little different than everyone elses at the range.
My personal wish list right now would be a dedicated .22LR AR15 UPPER and LOWER that would go toe to toe with a custom RUGER 10/22 from the likes of Volquartsen, Tactical Solutions and Clark Custom.
Below is a list of what I would want for what I call a "Precision AR15 .22" Upper Receiver
16" Stainless Douglas Bull Barrel
1:16 Twist Rate
Optional Fluted Barrel
Optional Barrel Threaded for a Sound Suppressor
Optional Barrel Coating
Bolt Coated with EXO or NP3
Free Float Handguard
---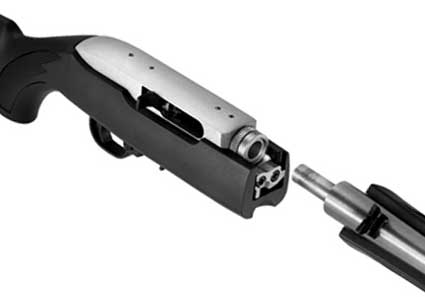 Finally someone has designed a TAKEDOWN AUTOLOADING RIFLE worth owning. That someone is RUGER and that TAKEDOWN RIFLE is the RUGER 10/22 TAKEDOWN RIFLE.
Download the RUGER 10/22 Manual.
Download the RUGER 10/22 TAKEDOWN spec sheet.
Sturm, Ruger & Company, Inc. (Tactical22.net) is proud to introduce the Ruger 10/22 Takedown™. Readily separated into two sub-assemblies, the Ruger 10/22 Takedown offers a convenient transport and storage option for the popular Ruger® 10/22®. As reliable and accurate as every 10/22, the Ruger 10/22 Takedown makes it even easier to keep America's favorite rimfire rifle by your side.
The barrel and forend of the Ruger 10/22 Takedown are easily separated from the action and buttstock by pushing a recessed lever, twisting the sub-assemblies, and pulling them apart. Reassembly is the reverse of takedown, and is quick and easy. The friction fit lockup of the assembly joint is simple to adjust, but will rarely need re-adjustment after the first assembly. The lockup is secure and repeatable, ensuring an accurate return to zero, even when receiver-mounted optics are used.
The Ruger 10/22 Takedown is shipped in a ballistic nylon backpack-style case that features internal sleeves which hold the sub-assemblies. External pockets with MOLLE webbing provide storage for magazines, ammunition, and other accessories. Multiple attachment points for the padded, single shoulder strap offer different carrying options.
The 4.67-pound Ruger 10/22 Takedown is 37″ long when assembled; each subassembly is less than 20 1/4″ long when disassembled. Utilizing the standard 10/22 action and ten round rotary magazine (one magazine is provided), the Ruger 10/22 Takedown offers legendary 10/22 reliability in a compact and portable package. For more information on the new Ruger 10/22 Takedown, or to learn more about the extensive line of award winning Ruger firearms, visit Ruger.com.
---
With the threat of OBAMA's possible re-election looming and a not so SECOND AMENDMENT friendly challenger in Republican Mitt Romney history is repeating itself in a bad way. Once again gun owners are stocking up on guns and ammunition for the long haul and the supply chain is rapidly drying up. For those of you who do not remember or have forgotten what happened prior and after OBAMAS election, the shooting industry was unable to keep up with the demand of panicked gun owners who justifiably feared their gun rights were at risk. The resulting demand lead to a shortage of all popular ammunition, handguns and just about anything relating to an AR-15. Manufacturers of weapons and parts in many cases had backlogs well over one year. Everything from lower parts kits to barrels and buttstocks. The parts that could be found were sold at prices 30 to 40 percent and higher above normal cost. The situation finally began to stabilize about a 18 months into OBAMAS term. To that end now is the time to start purchasing for the long haul. Do not put it off until summer or fall or you will be sorry.
Ammunition:
Today April 2, 2012 the ammunition that can still be found is getting more costly by the week. The previous ammunition hoarding frenzy was about a year and a half of shortages on all popular handgun and rifle ammunition including our beloved .22 long rifle. If you could locate them boxes of Federal Bulk .22's were selling for about $5 more than what they are currently. Shooters were constantly aware of when WalMart and Cabela's would be receiving shipments. .22's were like gold.
My suggestion for anyone reading this is the following:
Plan on purchasing an 18 month supply of ammunition
Focus on NATO calibers as well as the main stream cartridges. .223/5.56 NATO, .308 Winchester, .38 Special, .45acp, 9mm Parabellum and .40 S&W. Remember too that you cant have too much of any caliber. In fact extra ammunition can be traded for gun parts and other ammunition when times are tight.
Do not forget to purchase A LOT .22 LONG RIFLE. As the price of ammunition goes crazy your .22 may become your primary gun at the range while you ration the more expensive and hard to obtain centerfire ammunition. You simply cannot have too much .22 ammunition.
Consider reloading as a backup but be sure to stock up on the raw materials ESPECIALLY PRIMERS.
Weapons:
Handguns - Buy any handgun and related accessory NOW. This includes holsters, sights and optics. In a few months the only thing on the gun shop shelves will be over priced used junk.
Magazines - Buy magazines for anything you currently own or plan on owning especially the high capacity variety. Magazines are also good for bartering during a shortage.
Military style rifles buy now if you can afford it or place that order you have been procrastinating. If Obama is re elected a two year wait for an assault rifle might turn in to a forever wait. Buy that AR-15, AR-10, Remington/Bushmaster ACR, FN SCAR, PS90, FS2000 NOW
Gun parts - I simply cant over state that you are a DIY guy get you parts bought or on order now. AR-15 parts such as BOLT CARRIER GROUPS, BUTTSTOCKS, BARRELS and LOWER PARTS KITS are already becoming scarce. In fact there are no DPMS LR-308 BOLT CARRIER GROUPS to be bought period.
NOTE: It is important to keep in mind anything you purchase now will be worth much more during a shortage.
---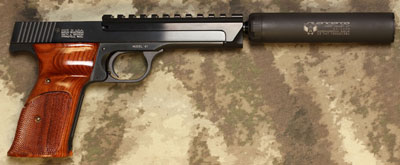 Just so I am clear last August I ordered a SILENCERCO SPARROW SOUND SUPPRESSOR with the intention of using it with my SMITH & WESSON MODEL 41 .22 TARGET PISTOL. Two weeks ago I got approval from the BATFE and took possession of the SILENCERCO SPARROW. I figured it was about time to order the barrel to attach it to. According to CLARK CUSTOM GUNS I should have the model 41 barrel by the end of April 2012. Might say I procrastinated this on a bit. Stay tuned.
Update: Follow this page for the S&W Model 41 Clark Custom Threaded Barrel and Silencer Project
---

After seven long months the wait is over. I'm finally in possession of my SILENCERCO SPARROW SOUND SUPPRESSOR.
---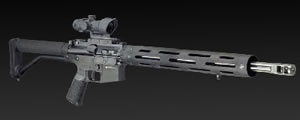 From the manufacturer:
With the price of centerfire 223 ammunition being what it is, many are looking for an inexpensive practice solution. Or maybe you would just like to have a super high quality AR type system in 22LR for recreational shooting in situations that do not allow the centerfire option. We have shot most of the 22 LR conversions on the market and feel that the new Nordic Components rim fire action is the most reliable.
Therefore, we use the Nordic Components 22 rim fire action and barrel and duplicate a JP-15 upper assembly in 18" LW contour, exactly like the centerfire version with perfectly blended JPTRE-2S comp and a .750 profile to the muzzle. Weight and handling characteristics are virtually identical to our most popular centerfire match configuration.
The problem with most of the cheap 22 rim fire AR-15 type rifles is that they do not duplicate the handling of your match rifle in that they are extremely light weight. A practice tool isn't of much value if it does not duplicate your match rifle in handling.
You could buy a cheap plastic AR-15 rim fire copy, or you could buy a real AR-15 rim fire rifle. The choice is yours. Quality matters.
---

---
New NIKON Rifles cope for the Tactical AR Rimfire Platform - The P-22
Nikon's new P-22 Riflescope's are the rimfire-optimized variant of Nikon's growing line of precision optics for AR rifles. Designed for extreme sighting speed and superior accuracy from rimfire AR platform rifles and .22 long rifle cartridges, the P-22 is offered in 2-7x32 with BDC 150 reticle or 2-7x32 with Nikoplex reticle and Nikon's Rapid Action Turret system.

Nikon P-22 Riflescope's feature tactical-style turrets with a Zero-Reset feature and are parallax set at 50 yards. Positive, ¼-inch MOA at 50 yards and tactical hand turn reticle adjustments provide positive click feedback to get shooters on target with speed and confidence. Featuring fully multicoated optics for extreme brightness, the P-22 provides incredibly high light transmission for most light conditions.

Developed specifically for the trajectory of the .22 long rifle rimfire round, the new BDC 150 reticle offers shooters circles, dots and hash marks from 50 to 150 yards. It includes tactical-style turrets with Zero-Reset feature to get zeroed-in quicker and maintain settings - even with repeated recoil.

The P-22 2-7x32 with Nikoplex reticle with Rapid Action Turret technology includes two different sets of tactical style elevation turrets for Standard Velocities (1200-1300 fps) and Hyper Velocities (1500-1600 fps). Now it's possible to aim directly at the targets, eliminating the need to holdover by changing distances with a quick turn of the turret.

Available in Winter 2012, the P-22 will retail for $179.95.

Nikon P-22 Specifications:
FOV @ 100 yards: 33.4 - 9.5
Exit Pupil: 16 - 4.6
Eye Relief: 3.8 inches
Length: 11.5 inches
Weight: 13.9 ounces
Max internal adjustment: 80 MOA
Parallax setting: 50 yards

Like all Nikon Riflescope's, the P-22 is optimized for use with Nikon Spot On™ Ballistic Match Technology. The Spot On program provides users with exact aiming points on the BDC reticle for any load or ammunition at a specified range. Spot On can be purchased for iPhone and Android or tried out for free at nikonhunting.com/spoton.

Nikon Inc. is the distributor of Nikon sports and recreational optics, world-renowned Nikon 35mm cameras, digital cameras, speedlights and accessories, Nikkor lenses and electronic imaging products.

For more information on Nikon's full line of Riflescope's, binoculars, Fieldscopes and laser rangefinders, please contact: Nikon Sport Optics, 1300 Walt Whitman Road, Melville, NY 11747-3064, or call 1-800-645-6687. www.nikonhunting.com.
---
Sturm, Ruger & Company, Inc. (NYSE: RGR) is proud to announce the new Ruger SR22 pistol, the do-it-all .22 pistol for the shooter who appreciates style and demands reliability. The SR22 is a rugged, scaled-down version of a full-sized pistol, perfect for plinking, target shooting and small game hunting. The lightweight SR22 has modern styling and is fun to shoot while using inexpensive rimfire ammunition.
"Ruger has built a solid reputation for excellence in rimfire pistols with the Mark III™ and 22/45™ product families, and the new SR22 will contribute positively to that reputation," said Chris Killoy, Ruger Vice President of Sales and Marketing.
"This pistol is feature-packed and an incredible value – consumers won't find a similar product with everything the SR22 offers at a comparable price. It functions with all types of .22 LR ammunition for extreme reliability; once rimfire enthusiasts pick it up, they won't want to put it down," he concluded.
The SR22 has light double-action and crisp single-action trigger pulls. Its external hammer is designed with a rounded spur for easy cocking and single-action shooting.
The SR22 features a polymer frame and two interchangeable (no tools required) rubberized grips with angled serrations, allowing shooters to select either a slim or wider palm swell option.
The aerospace-grade aluminum slide has serrations on both front and rear for better grip and slide manipulation. The easy-to-use underside Picatinny rail features multiple cross slots for variable mounting of most popular accessories.
The 3-dot sight system has a fixed front sight and a rear sight that is adjustable for both windage and elevation. A reversible blade allows shooters to select two white dots or a solid black blade.
Other SR22 features include a stainless steel replaceable barrel, an ambidextrous manual thumb safety/decocking lever, ambidextrous magazine release, plus a visual inspection port to determine the load status of the pistol. The SR22 includes two finger grip extension floorplates that can be added to the magazine for comfort and grip. Each SR22 is also shipped with two 10-round magazines and a soft case.
---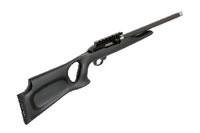 Magnum Research, a Kahr Arms-owned company and the maker of the Desert Eagle pistols, has announced it will introduce a new .22 LR rifle in their popular Magnum Lite series for 2012, the MLR22AT.The MLR22AT will give .22 LR rifle shooters something to get excited about. The new ambidextrous lightweight thumbhole 10/22 stock is made of polypropylene with fiber additives for maximum strength.
The stock comb height is designed high enough to comfortably and properly shoot with optics. The new stock design also features a semi palm swell on both sides of the pistol grip, and a molded-to-fit hard rubber butt plate attached with screws.
This rifle will be equipped with the Magnum Lite revolutionary patented graphite bull barrel, exclusive to Magnum Research. The patented uni-directional graphite fibers, parallel to the bore axis, results in a barrel with six-times the stiffness of conventional steel. The lighter barrel weights (from 13-16 oz, depending on barrel length) are easier to wield and dissipate heat up to 43% faster than steel. The result is rim fire performance of extreme accuracy.
Other features include a .22LR Benz target chamber designed specifically for semi-automatics; full floating barrel for maximum accuracy, CNC-machined receiver from 6061-T6 aircraft aluminum forging with an integral weaver-type rail for optics and a black anodized finish. The MLR22AT has an approximate weight of 4 ¼ lbs, barrel length of 17 inches, and over all length of 35 ½ inches.
This rifle utilizes the 10/22 trigger group and 10/22 rotary magazines. MRI bolts are manufactured and machined from heat treated and thorough hardened 4140 steel with minimum headspace for better accuracy.
MSRP for the MLR22AT will be $562. The rifles will start shipping in spring 2012.
For more information about Magnum Research products, visit www.magnumresearch.com.
To learn more about Kahr Arms, visit www.kahr.com, or contact Monica Arnold, PR Director at Blue August, LLC, at monica@bluaugust.com.
---

So you like the look of a silencer on a .22 but you don't want to go through the legal hassle and expense of owning an authentic .22 silencer. Well i have great news. Brownells is now offering two fake silencers that are inert replicas of the real deal from GEMTECH and SPIKES TACTICAL. I recently purchased the GEMTECH. You can expect to see it in many photo's going forward
Did i mention these fake silencers are cheap?
---
I get this a lot and of course there is not one definitive answer. You the shooter needs to find what functions best in your particular weapon. That said and out of the way this has been discussed many times on the forum and some consistent patterns are emerging.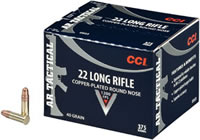 ---
Not a lot .22 News
Not much to report. I will be ordering the Clark Custom Smith&Wesson Model 41 threaded barrel soon. Hopefully in October I will get a Leupold .22 lr rimfire scope on order for my 10/22 project. I did end up ordering a Silencerco Sparrow Suppressor. I hope to see the tax stamp by New Years. I would also like to get a Liberty Kodiak or an AAC Element on order soon.
I have been shooting the CMMG Sierra often and so far I have not had a single malfunction. It's a joy to shoot. There is an issue if attempting to use Magpul MBUS sights that I will address in another update.
---
CMMG SIERRA and MAGPUL MBUS
If you order a CMMG SIERRA with a railed gas block you will need an additional piece of hardware to utilize same plane sights such as the Magpul MBUS. The part you need is available from Yankee Hill Machine. Part number YHM-230 Gas Block Riser. See the images below.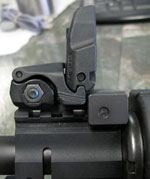 Note: MAGPUL MBUS Sights are not intended to be used on a gas block in centerfire applications. They are not designed to handle the heat generated by the gas system.
---
Anschutz MSR RX22
Here's a new offering from Anschutz that looks quite interesting. I am anxious to learn more about this Anschutz Tactical .22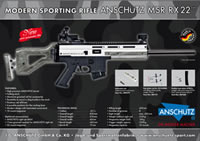 ---
On the path to my first .22 suppressor
Recently I decided that owning a .22 rimfire suppressor was something I wanted to do. Now that I have begun the long drawn out legal process it's time to pick out some hardware. I have narrowed my suppressor choices down to the following.
As for the firearm these was a tough call at first but in the end I decided I will order a Clark Custom 5.5" threaded barrel for my Smith&Wesson Model 41. With or without the suppressor this barrel should improve this already wonderful shooter.
Stay tuned for a page dedicated to this project
---
BROWNELLS SELLING AMMUNITION
This is long overdue.
---
The fine folks behind the BAD A.S.S AR-15 AMBIDEXTROUS SAFETY SELECTOR are now site sponsors and active members of the 308AR.com. Join the forum and check them out. Click here.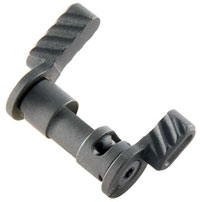 ---
Below is an interesting read from member Killbreaux:
The double strike firing pin has (unfortunately for you) been around for awhile. Many .22LR SMG's over the years have incorporated a version by having twin fixed firing pins precisely for the reasons you described, enhanced reliability of ignition. And you are correct in assuming that if one area of a .22 rim lacks enough priming compound to detonate, the other side is probably fine...something I suspect most .22 shooters have discovered over the years by taking misfired rounds out and reinserting them to the pin strikes a different location on the rim - BANG, so clearly a double pin system would indeed double the probability of ignition and the incidence of misfire with the .22LR would cease to be a topic of such hot debate.
The simplest reason .22's don't normally have twin pins is...well, simplicity - and manufacturing cost. Since the average consumer (and unfortunately the average manufacturer) views the .22LR as a recreational cartridge, little interest has been displayed in addressing those aspects of the cartridge design, or "system" design that would lead to .22LR ammunition on par with modern center-fire ammo for ignition reliability. There is also consumer resistance and reductionist example: one major way to improve the .22LR would be to make it like the .22 Magnum with the case larger in diameter than the bullet, and have the bullet properly seated IN the case rather than "crimped on" - a design that goes all the way back to the very first .41, .38, and .44 rimfire conversions in post-Civil War cap-and ball revolvers.
Placing the bullet inside the case would result in greater cartridge integrity and less propensity to be damaged by mechanical handling in feed systems. Such a change in case-to-bullet would mean the classic .22LR as it has existed since 1857 would be at an end, which would of course impact the cost of all "modern" ammo just as it has with newer designs such as the .22 Magnum and .17 caliber series.
Double firing pins would improve reliable ignition, but this would add to the cost of ever-more-expensive firearms, yet I suspect better QC during manufacturing would effectively eliminate misfires. Bear in mind that if the average consumer "expects" his ammo to fail, there is little incentive for the maker to work diligently to improve the product.
Also, what proper, double-blind studies have been done to validate the current state of .22LR reliability? In the modern age of anyone with a computer and a gun becoming an "expert" and making sweeping - if erroneous proclamations based on a minimal experience with a limited sample size, and this of course does nothing to help matters. For every HONEST review there are many dishonest versions put up by individuals with a particular agenda and personal bias. Say some goob doesn't think we should buy imported ammo....he will consistently blast Aguila ammo, while heaping sweeping praises on say, CCI. If ONE reviewer claims a particular round failed excessively (his perception) in a certain brand gun, yet another shoots the same ammo in the same brand gun with 100% reliability, CLEARY there is a problem with authenticity. I see a great many "reviewers" who see themselves as upholding some "standard" by blasting one brand while supporting another, and whether they actually USED the blasted brand is irrelevant - to them. We see this in the modern world of auto reviews...people will deliver a "review" of a brand new model they have NEVER driven simply to get in their kicks so to speak!
Then comes "reviewer bias expectation," or the tendency for people to support the claims of those they perceive as having greater knowledge or standing as part of the normal human desire to "belong" to a unique group. These people, upon seeing a negative - or positive review by "an expert" will be drawn to tailor their own experience in accordance so as to be seen as "in the know" just like the presumed expert.
The problem is, when it comes to firearms and ballistics, most arm-chair experts, aren't, and TREMENDOUS bias exists due to the entirely unscientific manner of reporting going on in the world today...and I didn't even mention PROFESSIONAL bias such as that exhibited by so-called "icons" of firearms lore who glom on to an idea, however archaic, and use their perceived standing in the shooting world to push and push the notion to the point where it becomes "reality." I am reminded of one such iconic "expert" who, a few decades back proposed the notion of some ridiculously outdated, bolt-action short rifle, chambered for what HE considered the only VALID cartridge, to be a "Scout Sniper" rifle....damned if it didn't start showing up in the real world...didn't matter that for the intended performance envelope a modern semi-auto, utilizing a much smaller (but less manly) cartridge could hit as well at ANY range, and do so faster, longer, with less shooter fatigue....by God the GURU had spoken.
Same notion goes for the .45 ACP....40 years ago MOST of the world realized the .45 ACP was pretty lame....big, slow, round bullet traveling SLOW. Back then Magnum revolvers were the heady, elixir of the "in-the-know" self-identified "shootist." Then came the "first explosion" in firearms information technology...the proliferation of magazines and other publications devoted to the subject. That also began the careers of the "icons," who of course brought their BIAS to the subject which was taken as "gospel" by most. Regardless of facts - regardless of actual shootings, many factors induced the shift from the revolver to the semi-auto for police use and self-defense....not the least being a perfectly valid engineering, and ballistic reason to toss the double-action revolver, however THIS was not the reason put forward, nor is it the reason in common knowledge today...it was all about the "mythology of stopping power" which is just that - mythology. A hit to the central nervous system with a .22LR, or even a pellet will drop a 300 pound, drug-crazed man just as fast as will a hit from a .460 Weatherby Magnum. A hit NEAR the central nervous system has the same chance of absolutely meaninglessness to the person shot, regardless of whether it be from a .30'06 or .22LR, yet shooting mythology simply cannot accept this level of uncertainty.
The FBI, probably one of the most highly recognized police agencies when it comes to SCIENTIFIC approach, doffed the 9mm for the "10mm" after a shootout in which the FBI guys, employing ZERO tactics, but fully in belief of their own superiority, attempted to apprehend two bank robbers...the problem was, one of the bank robbers had a Mini-14 rifle. In the resulting shoot-out, all the FBI guys were severely wounded and two killed. The single bank robber with the Mini-14 took no less than 14 hits without going down, during which time he delivered withering rifle fire...mind you the FBI guys were employing exotic tactics like trying to "charge him" while holding a ballistic vest in front....a vest meant to be worn, but not, yet then foolishly thought to be used as an on-the-fly shield. A vest NEVER made to be "proof against rifle fire," yet the person holding clearly lacked any grasp of that fact.
AFTER the shootout, the FBI saved the 10mm from the scrap-bin of history by adopting it as their new standard...but not the REAL 10mm, the "attenuated" 10mm which was really the ballistic equivalent of the....45 ACP! So they dumped the "ballistically inferior" 9mm which, by the way has virtually equal kinetic energy to the ..45 ACP and replaced it with the 10mm "light" which became the basis of the immediately introduced .40 S&W with .45 ACP ballistics. So today we end up with three primary auto pistol cartridges that in terms of actual WOUND ballistics are indistinguishable, and in terms of actual field shooting - identical, YET let that not be the end of it because too many people are making money from promoting one or the other.
I'd be interested to know just how many "gun experts" have actually seen handgun wounds in both an ER and surgery. I'd be interested to know how many "gun experts" have SEEN people hit by .45's WALK into the hospital little worse for the experience, versus the number hit by .22LR's fired from home-made "zip guns" carried in by Ambulance. Unfortunately there is a great deal of "lore" surrounding particular calibers with little....LITTLE scientific support.
All this tangential filler serves to explain why the .22LR will never be "improved" from the standpoint of science, nor would such an improvement guarantee commercial success from the stand point of consumers - ESPECIALLY "gun people?"
My OWN experience working in trauma for 30 years caused me to realize I could carry a flipping .22 mini-revolver and be just as well-prepared for a street encounter as if I were packing my 1911....and, like MOST I at some level of thought within my "reptilian brain" I simply cannot escape the notion that the bigger caliber is better despite career experience that so clearly indicates otherwise. During the Reagan attempted assassination, four people were hit by .22 rounds fired from a SHORT barrel....all four went down and not ONE jumped back up and "laughed it off" with a lot of stupid posturing about how anemic the .22LR is, yet THAT video "evidence" of the efficacy of the .22LR fired from a snub-nose revolver is patently ignored by crowd that simply cannot "believe."
It's kind of like the "faked" moon landings....the LRO specifically photographed the landing sites complete with highly visible HUMAN tracks, yet the "conspiracy" that we never landed on the moon still abounds and NOBODY can interdict it because to those who ascribe to it, any EVIDENCE to support the landing is fake, and any notion to discredit it is taken as fact. The same people believe there is a "face on mars" looking our way, but PHOTOGRAPHS of the lunar lander sitting there on the moon are FAKE...same mentality in the "gun world."
The .22LR is an ideal "social cartridge" quite because it is cheap, low recoil, and will solve just as many of life's problems as will a 9mm or .45 ACP - but where is the FUN in that reality?
My hope is that with the recent proliferation of .22LR "tactical" weapons, the ammo makers AND the weapons designers will end up in a defacto competition to force the improvement of both the cartridge and the guns that fire it from a profit motive aspect. The emergence of the "goober consumer" who can jump Online and post ANY sort of outrageous claim on ANY forum can in fact serve to enhance product improvement as gun and ammo makers scramble to not see their name posted "in the negative" too often....we shall see.
---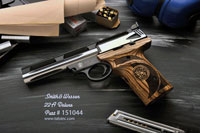 ---
Well this came out of nowhere.
Caliber .22 LR
Action Semi-Automatic
Capacity 15rd. Magazine
Barrel 18"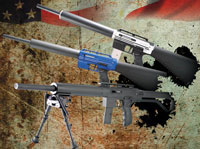 ---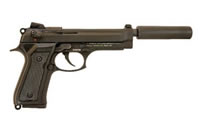 Chiappa Firearms debuts its new M-9 (9mm look alike) semi-auto pistol in .22 Long Rifle caliber.
The same size as the 9mm M-9 Its great looks, quality manufacture, and of course economic caliber make it a natural for everything from look alike economical practice to plinking.
The original 9mm x19mm M-9 won the competition for the new U.S. Military sidearm back in the mid-1980s and became the official U.S. Military sidearm in 1990 with a new model designation. This new Chiappa .22 caliber pistol is a faithful copy of that handgun.
Two Models comprising three variants (plastic or wood grips) are available:
The first is the M9-22 Standard model. This model features drift adjustable rear sights and a choice of wood or black plastic grips. Its suggested retail is $369.00.
The second model is the M9-22 Tactical. This thing is cool! It is a replica of the current U.S. Military model and comes with black plastic grips (no wood). It comes with drift adjustable replica Novak style fiber optic rear sights.
The M9-22 Tactical features a 1/2inch X 28 threaded barrel and replica suppressor and thread protector cap when the replica suppressor is not on the gun. However, the pistol will accept most real suppressors and silencers. Chiappa does NOT make suppressors or silencers. These Class Three devices must be purchased and registered through licensed dealers. The M9-22 has a suggested retail of $419.00.
Specifications:
Caliber: .22 Long Rifle
Magazine Capacity: 10 rounds (2-magazines included with each pistol)
Barrel Length: 5-inches
Overall Length: 81/2 inches
Weight: 37 ounces
Grips (stocks): wood or black plastic standard model and black plastic Tactical Model
Replica Suppressor:Tactical model (included, no extra cost)
---
CMMG has been working harder than any other AR-15 manufacturer in the area .Tactical .22's. They offer unique .22 conversion kits, dedicated uppers and complete rifles. Check out their latest release below. It's the CMMG INDIA .22 EVOLUTION CONVERSION KIT with CHAMBER LOCK.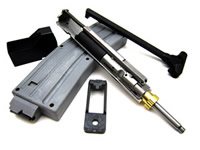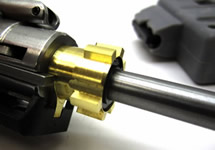 The India has every single feature we offer for a semi-auto .22LR conversion.
Kit Includes:
Right Handed Stainless Steel Action
NEW 22 ECL (Evolution Chamber Lock)**
Lifetime Warranty
Live Round Extraction
Buffer Retaining Pin Relief Cut
Piston System Compatible (without removing piston rod)
Magazine Stabilizer
Bolt Hold Open Actuator
25 Round BHOA Magazine
Removable Forward Assist
Extension Bushing
Cleaning Recoil Guide Rod
Go/No Go Chamber Adapter
Compatible with Any Mil-Spec AR15 Upper
Magazine Loader
**The New Evolution Chamber Lock is a brass chamber adapter that locks into place eliminating all play between the conversion and upper receiver which has two beneficial effects. First, by eliminating all play between the conversion and receiver, reliability is improved. Secondly, for trainers and armorers, it makes it more difficult to remove and "tinker" with the conversion which greatly reduces down time due to "unauthorized" cleaning or dis-assembly
---
Finally a company that gets it. Brownells is offering a CMMG 16" AR-15 Barrel chambered and rifled for use in a .22 AR upper. The page states it includes the adapter. I believe this adapter is meant to replace the adapter an an existing conversion unit.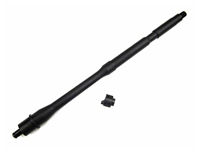 ---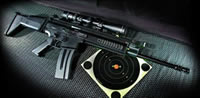 ISSC-Austria, exclusive importer and distributor of the M22 range pistol, proudly announces the introduction of the ISSC Modern Sporting Rifle; the MK22 in .22 LR.
This exciting addition to the ISSC-Austria 22 caliber lineup is engineered and precision built in Austria, incorporating the look and feel of a military-style designed rifle with the modern elements of a modern sporting rifle platform. This durable, all-metal rifle gives the shooter a "centerfire" feel even though it is chambered in the economical .22LR cartridge. MK22 features include: a variable and folding open sight, a Picatinny-style quad-rail for mounting of sights, lights or gripping accessories and a folding and collapsible stock with an adjustable cheek piece. The MK22 will also come in a version that will meet specs where certain states require fixed, non-folding stocks.
Weighing just a little over seven pounds, the MK22 has an overall length of 35.16 inches when stock is fully extended to 33.7 inches when collapsed. The overall height of the MK22 with sight is 11.7 inches. The overall width is 2.8 inches. Round capacity ranges from 10-shot to 22-shot depending upon area laws. MSRP for the new ISSC MSR MK22 is $569.95. Available end of December 2011. ISSC-austria.com.
---
Beretta U.S.A. Corp. has discovered a potential condition with Beretta .22 caliber NEOS semiautomatic pistols in which the pistol will fire even if the safety is activated and, in some cases, the pistols may fire if the safety is moved from the OFF to the ON position. Chances of either of these situations occurring is extremely remote and no injuries have occurred because of this condition, however, because of safety concerns relating to this situation, Beretta U.S.A. Corp. is immediately implementing a recall of Beretta .22 caliber NEOS semiautomatic pistols.
If you have a Beretta NEOS pistol, please send it to our Accokeek Maryland Service Center for repair. Instructions on how to send your Neos to Beretta is available at www.berettasupport.com/neos or by calling 1-800-BERETTA. Note: Some pistols are not subject to recall. Please visit www.berettasupport.com/neos to see if your NEOS has already been repaired.
Your pistol will be retrofitted, at no cost to you, with a replacement firing pin assembly. The new firing pin assembly can be identified either by a circle on the back of the firing pin that includes a red dot in the center, or by a vertical line (either version is suitable for your continued use) as seen in these illustrations:
Please make sure that your Beretta NEOS pistol is unloaded before delivery to the service center. Do not experiment with your Neos pistol to see if it has the potential safety issue. Some NEOS pistols have already been repaired. If the firing pin for your NEOS looks like Version 1 or 2 above, you do not need to return it for retrofit. Please visit berettasupport.com/neos to see if your NEOS has already been repaired.
---
The STAR 522 rail system is manufactured to the same high standards as the STAR 556. At just 17.7 ounces, the STAR 522 provides a sturdy platform for your weapon accessories.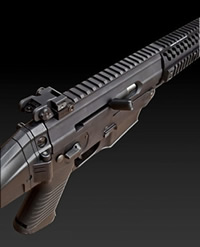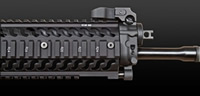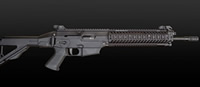 ---
CMMG has made what I consider an awesome move. They are selling complete .22lr AR-15's at a price to compete with the Umarex Colt's and similar. For a little more money than a Colt Umarex you can have a real mil spec AR-15, M4 .22LR and the ability to use most of the AR-15 accessories available. The .22 Evolution Quebec A rifle utilizes the proper 1/16" barrel twist rate for .22LR.
Mil-spec upper and lower with ceramic finish
1/16" twist barrel
WASP finish barrel
1 25 round mag with last shot bolt hold open follower
Compatible with most AR15 accessories and upgrades
Low profile Picatinny gas block
Live round extraction
Lifetime warranty
Mil-Spec Forward Assist
Mil-Spec charging handle
Mil-spec diameter buffer tube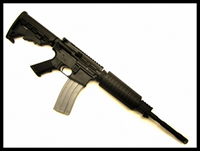 In addition to the CMMG Quebec A Rifle CMMG is also making two dedicated .22LR uppers available:
16 inch W.A.S.P. steel barrel
1/16 inch twist
Mil-Spec 1/2x28 threaded muzzle
F marked Triangle Front Sight
Live Round Extraction
Firing Pin retained by standard AR15/M16 Cotter pin
Mil-Spec M4 Receiver with Ceramic Finish
Gas Deflector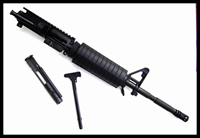 The CMMG Sierra differs from the M4 LE in that it has a low profile railed front site gas block rather than the "F Marked" front sight gas block. The Sierra features a 16 inch W.A.S.P. steel barrel 1/16 inch twist Mil-Spec 1/2x28 threaded muzzle Picatinny Railed, Low Profile Front Sight Base Live Round Extraction Firing Pin retained by standard AR15/M16 Cotter pin Mil-Spec M4 Receiver with Ceramic Finish Gas Deflector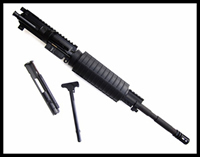 Heres mine. Go here for more pictures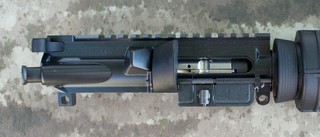 ---
AlumaliteUSA Muzzlebrakes Compensators Barrel Shrouds
I found AlumaliteUSA while browsing the web for gun parts. These folks appear to have some pretty cool looking barrel accessories for the GSG-5, GSG-522, Ruger 10/22 and any other .22 with a threaded barrel. Click the highlighted text or image below for more information.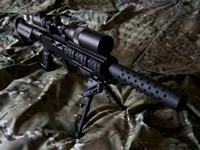 ---
I just saw Brownells is offering a decent deal on the CMMG AR-15 .22 conversion kit with 3 magazines. Check it out here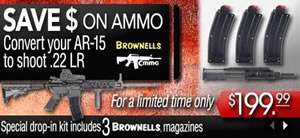 ---
I just noticed Brownells is listing GSG-5, GSG 522 magazines for sale in the "New Products" section. See them for yourself here.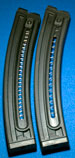 ---
FORT SMITH, ARKANSAS - (May 13, 2010) - Umarex USA, the leader in firearm replication, introduces the Colt Government 1911 chambered in .22 L.R. The dedicated .22 long rifle (LR) platform is a new, licensed reproduction available in three rimfire variants-Government models 1911, 1911 Rail Gun, and 1911 Gold Cup.
Umarex USA introduced the Colt M4 and M16 Tactical Rimfire replicas in 2009 and is continuing its relationship as United States importer for Colt .22s manufactured by Carl Walther Germany under license from New Colt Holding Corporation. Adam Blalock, President and CEO for Umarex USA said, ".22 caliber pistols are utilized for their cost economy and target shooting capabilities. Our team is absolutely stoked about this opportunity to offer shooters a high quality authentic Colt 1911 .22 pistol! And the timing couldn't be better, with the 1911 celebrating 100 years."
All three Colt Government rimfire models are dedicated .22 L.R.s, but they're engineered in true replica form with fully functioning thumb and grip safeties and the 1911's authentic half-cock mechanism. Grips and sights can be interchanged with after-market accessories and the barrel is threaded to accept a suppressor. The Rail Gun incorporates original features like a skeleton trigger, combat-style sights, beavertail grip safety, extended thumb safety, and a commander-style hammer.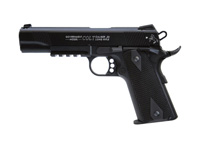 "There are already a couple of .22 caliber 1911 pistols on the market, but none bear Colt's trademarks, full functionality, and quality," said Richard Turner, Vice President of Sales & Marketing for Umarex USA. "If the barrel size was the same, you wouldn't know the difference by just looking at it."
The new Colt .22 replicas will be available through select distributors, local firearm dealers and some national retailers beginning in November 2010. They will come with one 12-round magazine and retails will range from $399 to $450 depending on the model.
Umarex was established in 1972 as "Uma Mayer Ussfeller GmbH" and served the market for tear gas and signal pistols followed by air rifles. After acquiring Reck Sportwaffen Fabrick Karl Arndt, they reorganized ultimately under Umarex. The company's Reck PK 800 enjoys worldwide acclaim and appears on the market as the perfect replica of the Walther PPK. Umarex has now become the largest maker of replicas by offering numerous German-made air guns, tear gas, signal pistols and replica firearms. Umarex is Europe's largest marketer of air rifles and Umarex USA is North America's fastest growing airgun and replica rimfire gun company. Umarex USA markets their airguns, airsoft, paintball and rimfire products under famous brands such as Walther, RWS, Smith & Wesson, Browning, Heckler & Koch, Ruger, Beretta, Colt, Magnum Research and others. For additional information regarding Umarex USA visit .
---
Tactical Solutions dedicated .22 LR flattop upper allows live-fire training with affordable rimfire ammo while retaining the weight, balance, and feel of your rifle. Replace your existing upper with the AR-22 upper, insert the included Black Dog .22 LR magazine, and you're ready to shoot. You practice with your existing trigger and fire control components, so the trigger weight and pull feel the same. The mil-spec exterior has a standard MIL-STD 1913 Picatinny rail, charging handle, forward assist (non-functioning), and ejection port cover. Inside the standard bolt/carrier assembly is replaced by a dedicated "bolt rail" of hardened tool steel with a blowback operated stainless steel bolt inside. Both components are built to run hard and handle the abuse of long practice sessions. M4 has the appearance and weight of a USGI M4 upper, with correct contour barrel, standard M4 handguard, A2-type flash hider, and a gas block/front sight tower with bayonet lug, sling loop, and square front sight post. LT has a lightweight, free-floated aluminum barrel with a button rifled, 1 16" twist chrome-moly steel liner. Muzzle is threaded to accept any compensator or flash suppressor that fits an AR-15/M16/M4. The included screw-on muzzle cap with a built-in 11° target crown gives a clean, finished appearance. The Hogue machined aluminum mid-length forearm has bands of aggressive knurling to give you a firm grasp

SPECS: Receiver – 7075 T6 aluminum, hardcoat anodized, matte black. .250" pivot/takedown pin holes. Bolt – Heat-treated 416 stainless steel. Bolt Rail – Tool steel. Magazine – Injection-molded polycarbonate, translucent smoke. 26-round capacity. M4 – 24" (61cm) OAL. 3 lbs, 15 oz (1.8kg) weight. Barrel – Chrome-moly steel, Parkerized, matte black. 16.1" (41cm) long. 1-16" twist. ½"-28 tpi muzzle threads. LT – 23" (58.4cm) OAL. 2 lbs, 14 oz (1.3kg) weight. Barrel – Aluminum with chrome-moly steel liner, hardcoat anodized exterior, matte black. 16½" (41.9cm) long, .920" O.D. 1-16" twist. ½"-28 tpi muzzle threads.
---
The "Saiga-22" autoloading rifle is chambered for .22LR (5.6mm) rim-fire cartridges. The rifle is reminiscent of the Kalashnikov assault rifle exterior with a folding buttstock (AK-105). The rifle reloading mechanism is recoil-operated. The trigger mechanism allows delivering single fire only. The rifle is equipped with a 10-round magazine which is located in an assault rifle detachable 30-round magazine. The rifle can be provided with a side rail to mount an optical sight.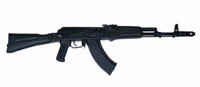 Caliber: .22 LR
Capacity: 10 rounds
Barrel: 16.3″
Stock: AK-105 style folding stock
Overall Length: 38″ (stock extended), 28.5″ (folded)
Weight: 7.27 lbs
---
Fits the GLOCK Models 17, 22, 34 and 35
1-16″ Twist Chrome Moly Steel Barrel
4140 Blued Steel Slide
Factory Glock Polymer Sites
14 Round, Black Dog Magazine
Last Round Hold Open
---
Well Its official Smith&Wesson have quietly released their M&P 15-22P .22 Long Rifle pistol. Download the PDF here.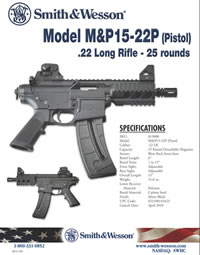 ---
Heckler Koch Umarex Tactical .22LR
Heres a glimpse at the new HK Umarex Tactical .22's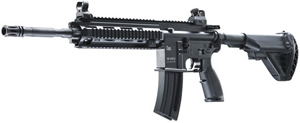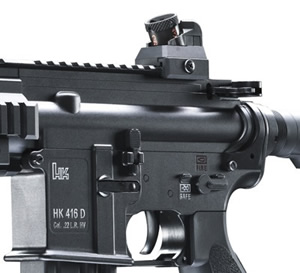 HK MP5 A5, MP5SD Tactical Rimfire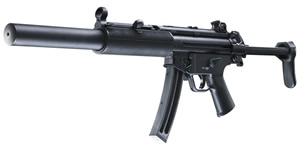 ---
Check out the latest reviews here
---
Check out the latest Ruger 10-22 based Tactical 22, The Zimmerman Arms Rezolution. Read about it here
---
If you haven't heard Heckler and Koch have been suing a list of folks for a laundry list of reasons. The first casualty is the GSG-5. Read the following quote. "Production and importation of the original design GSG-5 ceased as of Oct., 8, 2009 with the signing of the agreement. The remaining inventory now in the USA can be sold by ATI, all distributors and dealers. ATI currently has GSG-5's in stock. All sales of the GSG-5 by ATI must conclude by January 31, 2010. ATI will continue to service every firearm that it imports into the USA." It's a hypocrisy that HK can do this as Colt recently lost a lawsuit against HK for their 416 on the very same principles.
---
Some years ago Ruger was not giving customers what they wanted but they have really turned things around. Following on from the recently launched tacti-cool Ruger SR-22, the newest in the 10/22 line is the Ruger 10/22 VLEH Target Tactical Carbine. It is essentially a new version of the Ruger 10/22T (Target) styled after the Ruger M77 Hawkeye Tactical, which was also launched this year.

The 10/22 VLEH1 features a Hogue OverMolded stock, in my opinion the best for the Ruger 10/22. The barrel is 16" heavy .920" profile match-grade barrel with target crown. It has the same trigger group as the Ruger 10/22T, which is much superior to the standard factory trigger. To top it all off, a bipod is included. The VLEH configuration is almost identical to my favorite 10/22 configuration. It makes perfect sense for hunting and general plinking. My only complaint would be the lack of iron sights, although few people will miss them.
Caliber .22 LR
Capacity 10 Rounds (with factory magazines)
Finish Black Matte
Stock Black Hogue OverMolded
Barrel Length 16.12"
Groove 6 Twist 1:16" RH
Overall Length 34.5" Weight 6.88 lbs
Front / Rear Sight(s) None
Suggested Retail Price $ 555.00
---
- at Brownells Full Size, Reliable .22LR Magazines For AR-15 .22 Conversion Kits. The Polymer .22 LR magazine for CMMG .22 LR AR15 conversion kits features a 26 round capacity with bolt catch follower. The full size design of this accessory can easily utilize an existing magazine pouch and rifle case magazine carrier. Click the subject or image below for more information

Click the subject or image below for more information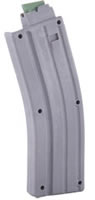 ---
I'm asked often if the two rifles use the same lower or can an AR15 upper be used with the .22 AR lower. Well here's an images that shows the substantial difference in the lowers internal designs. Click the image below to view it full size. Thanks to my friend 'ick" for providing this image and many more.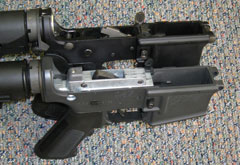 ---
S&W are now selling a version of the .22 AR-15 patterned M&P15-22 that is compliant with Connecticut, Massachusetts, Maryland, New Jersey and New York law. It has been made compliant by fixing the stock so it cannot be adjusted and supplying a 10 round magazine. The MSRP is still $499 .22 Rifles are exempt from California Assault Weapon laws.

---
Bill Springfield has an outstanding reputation for trigger jobs on just about any type of gun. AR15's, FAL's, CETME's, HK's as well as other rifles, pistols and shotguns. He is now offering a $49 trigger job for the GSG-5. For the guys with .22lr AR15's you can get about four AR15 trigger jobs for the cost of one match AR trigger. Do yourself a favor and give Bill a shot. Visit his site here for more information.
---
A new addition has been added to the German Sport Guns (GSG) line offered by American Tactical Imports. The GSG Kalashnikov is the newest 2009 firearm added to the novelty line of GSG's that include such guns as the GSG-5 carbine, the GSG-5 pistol, the GSG-5PK pistol, and the GSG-5SD carbine. American Tactical Imports also featured a very limited time special edition SHOT Show edition GSG-5 that was unveiled at this year's show and was sold only throughout the month of February.
The GSG Kalashnikov is a semi-automatic recoil operated 22 caliber high velocity long rifle. It is available with a capacity of either a 10 or 24 round detachable magazine. The Kalashnikov has a barrel length of 16.5 inches, and an overall length of 34.5 inches. The weight is exactly as the original Kalashnikov. The GSG Kalashnikov is available in two options: the wood stock model, constructed from blued steel and green forest birch from Italy; and the black stock model, constructed from high impact polymer. The MSRP on the wood stock model is $569.00, while the black poly stock has an MSRP of $549.00.

---
Tactical 22's
Below you will see a list of the Tactical .22's that we are aware of to date.
---
NcStar SRTR3942
I was researching bipod's for AR15Tactical.net and I stumbled upon this scope from NcStar. It appears to be a 3x9x42 with an illuminated light blue reticule. It doesn't appear to be readily available through normal channels. This scope seems to be similar to the scope I purchased for my GSG-5. It sure looks like a fun addition to any Tactical .22lr.
---
---
---
My Other Firearm Websites
---
Friends of Tactical22.net
Below is a list of shops who make this site possible. Please show them your support and mention where you saw the advertisement. Thank you...

---
Contact us | View site map | Links