Colt Tactical Rimfires:

---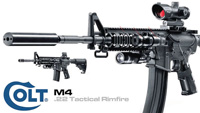 Umarex USA
January 9, 2009

In 2008, Umarex USA entered the .22 caliber rifle market with the Hämmerli Sport 22SA. For 2009,
Umarex USA, the replica king, introduces four exciting Colt Tactical Replicas in .22 caliber. Colt Tactical Rimfire
combines the fun and excitement of shooting tactical style replicas with the economy of .22 caliber ammo. All four
are Colt .22 rifles and are built for anyone who loves to shoot or simply craves the attention of other shooters.

Carl Walther Germany recognizes the growing popularity and demand for tactical style rifles for the recreational
shooting market. As a result, they entered into a licensing agreement with New Colt Holding Corporation
whereby Carl Walther will produce these .22 rifles in Germany under the Colt brand. Umarex USA cooperated
in the development of the product line and will be responsible for importation, sales, marketing and service for
the United States.

Two tactical styles are being offered, each modeled after a Colt legendary original — the M4 and M16 —
and both are available in two variations with 30-round magazines along with a variety of available accessories.
Wulf Pflaumer, chairman of the board for Carl Walther and pioneer of the Colt Tactical Rimfire project said,
"Colt is a leader in law enforcement weapons systems and I am proud that Colt has partnered with us for this
project in the civilian market."

The only significant difference between the .223/5.56 and these new Colt .22s is the caliber, creating a huge cost
advantage, both for the rifle and the ammo. All versions are made in Germany with full metal bodies, Colt's
straight-line construction which disperses recoil straight back to the shoulder, flat top receivers, cartridge case
deflectors for left-handed shooting, and muzzle compensators. High strength materials add durability to the
forearms, buttstocks, and grips. All are semi-automatic with 6-groove rifled barrels with rifling extending 350 mm.

The Colt .22 Tactical M4 is available in a standard carbine and in a tricked out "Ops" version. At the rear of the
M4 is the same 4-position buttstock you'll find on Colt's 5.56. The Ops version adds the "coolness factor" —
outfitted with a CNC machined rail interface system and a detachable tactical rear sight.

M16s set the world standard for weapons systems in its class. The new Colt .22 Tactical Rimfire M16 is no
exception. A replica of Colt's M16A4, it features an integrated rail system on the receiver which accommodates the
detachable carry handle found on the standard rifle and any number of optics and accessories. The SPR version
(Special Purpose Rifle) furthers the M16's tactical appearance with the addition of flip up front and rear sights
along with a rail interface system that's CNC machined of high-grade aluminum to accommodate a wide variety of
accessories with Picatinny-style mounts.

No stranger to the .22 market, Umarex USA has offered high-quality German-made .22 caliber RWS ammunition
since the company's inception. Adam Blalock, Umarex USA's CEO offered, "The introduction of the new Colt
Tactical Rimfire is a natural progression for us. The Colt replica .22s fall right into a category we're known for —
high quality replicas under brands that are famous, respected, and sought after. They also complement our line of
replica airguns in that they are high quality, exciting, and inexpensive to operate."

Whether used as a tactical trainer or an exciting plinker that commands the attention of everyone at the range, the
Colt .22 Tactical Rimfire is the shooter's new favorite.

Colt® is a Licensed Trademark of New Colt Holding Corp.
Check out the Colt .22LR Tactical AR15 2009 Catalog

Theres a full range of accessories available directly from Umarex.
---

Colt M4 Tactical Carbine .22lr
#2245050

The Colt M4 .22 looks and feels like an actual M4, creating one of the most exciting .22 caliber firearms available. Engineered from the ground up as a dedicated .22 rimfire, this AR style Colt features a 16.2-inch barrel, collapsible stock, flat-top receiver with detachable carry handle, CAR handguards, flash hider, A2 pistol grip, and 30-round magazine.
A tactical .22 rifle like this Colt is ideal for new shooters who are learning handling and operation. A gun like this Colt .22 M4, M4 Ops, as well as the Colt M16 .22 can have many uses-plinking, target practice and small-game hunting where allowed....all of which offer an economical shooting option.
---

Colt M4 Ops .22lr
#2245051

This handsome rimfire rifle sports an AR-style look and is modeled after the legendary original Colt M4. A "Tactical Rimfire" rifle, the M4 Ops is an upgraded version of the .22 M4 Carbine. Instead of the standard forearm found on the carbine, the Ops has an RIS, or Rail Interface System, that provides tactical railing on four sides allowing for you to mount a variety of available accessories. Additionally, the carry handle that's on the carbine is also replaced by a detachable rear sight making the M4 Ops an ideal optic-ready rimfire rifle.
We just aquired more images. Click the thumbnail for full size.
---

Colt M16 Tactical .22lr
#2245055

The Colt M16 .22 is no exception. German engineering and manufacturing have made this dedicated .22 the perfect practice and training companion for centerfire 5.56 owners.
The M16 Colt .22 rimfire rifle is based on the Legendary Colt M16 version. This semi-auto .22 M16 has a 21.2-inch barrel and the same carry handle that tops the flat-top receiver as you'll find on the .22 Colt M4. Measuring 39.8-inches from its flash suppressor to its fixed stock, the M16 offers outstanding, reliable target shooting enjoyment as does the Colt M4 .22.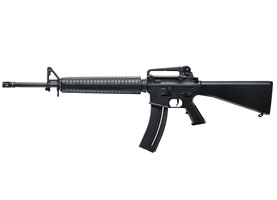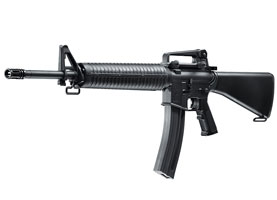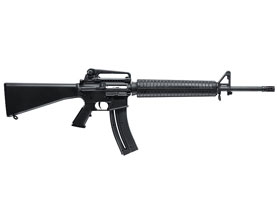 ---

Colt M16 SPR Tactical .22lr
#2245056

The M16 SPR (Special Purpose Rifle) of the .22 Tactical Rimfire series from Colt features a rail interface system like the one found on the M4 Ops model, plus flip-up front and rear sights. Its dedicated .22 receiver is ideal for anyone looking for a civilian Colt rifle or as a sidekick to a 5.56 centerfire.
---