Smith & Wesson Tactical M&P 15-22:
---
Smith & Wesson Introduces M&P15-22 Tactical Rifle
SPRINGFIELD, Mass. (January 16, 2009) Smith & Wesson Corp., the legendary 157-year old firearms maker, announced that it would expand its Military & Police (M&P) Rifle Series with the introduction of a new tactical rifle chambered in .22 LR the M&P15-22. The dedicated .22 LR platform offers the fit and feel of the company's popular M&P15 rifle, while being chambered in the more economical ammunition.

Engineered on a high strength polymer upper and lower receiver, the M&P15-22 benefits from reduced weight while retaining the looks and operating features of the standard M&P15 rifle. The new semi-automatic rifle features a 16-inch barrel with a twist of 1 in 15 inches. The M&P15-22 is standard with a six-position collapsible stock to accommodate a variety of shooters and shooting positions, an A3 style flat top upper receiver with a quad-rail handguard for easily mounting optional accessories and an A2 pistol grip for improved firearm control.

The new tactical rifle also features a fully functional charging handle, an AR-15 style magazine release, bolt catch and a two-position receiver mounted safety. The M&P15-22 is complete with a removable 25 round magazine along with a removable A2-style front post sight, an adjustable A2-style rear sight and a single stage trigger. An optional barrel shroud is also available.

"In designing the new M&P15-22, our engineers pulled out all of the stops to develop the ultimate .22LR platform," said Tom Kelly, Vice President of Marketing for Smith & Wesson. "The rifle's operating features, functionality and durability are exactly what you would expect from any of Smith & Wesson's tactical rifles. By remaining true to the standard AR-15 design while offering all of the preferred features found on the M&P Rifle Series, the M&P15-22 is well suited for a variety of recreational shooting applications while also being an extremely viable training firearm for law enforcement and military personnel. Shooters will find the M&P15-22 to be a great firearm for multiple uses with the reduced recoil and economical .22LR caliber ammunition."

The M&P15-22 has an unloaded weight of approximately 5 pounds. The rifle measures a compact 31 inches with the stock collapsed and 34 inches with the stock fully extended. The M&P15-22 is designed to accept all 1913 Mil. Std. rail adaptable accessories, Mil-Spec carbine stocks and most standard after-market AR-15 pistol grips.

About Smith & Wesson: Smith & Wesson Holding Corporation, a global leader in safety, security, protection and sport, is parent company to Smith & Wesson Corp., one of the world's largest manufacturers of quality firearms and firearm safety/security products and parent company to Thompson/Center Arms, Inc., a premier designer and manufacturer of premium hunting rifles, black powder rifles, interchangeable firearms systems and accessories under the Thompson/Center brand. Smith & Wesson licenses shooter protection, knives, apparel, and other accessory lines. Smith & Wesson is based in Springfield, Massachusetts with manufacturing facilities in Springfield, Houlton, Maine, and Rochester, New Hampshire. The Smith & Wesson Academy is America's longest running firearms training facility for law enforcement, military and security professionals. For more information on Smith & Wesson, call (800) 331-0852 or log on to www.smith-wesson.com. For more information on Thompson/Center Arms, log on to www.tcarms.com.

Heres some info found in Smith & Wesson's 3rd Quarter earnings Reports - March 12, 2009
Sales of M&P pistols continued to be strong throughout the third quarter. During the quarter, we received orders for our M&P pistols from a number of police agencies, including the Raleigh, North Carolina Police Department. To date, over 489 domestic law enforcement agencies have adopted or approved the M&P for duty use. The M&P pistol also continues to penetrate the international market. In the third quarter, we recorded orders for the M&P pistol from Puerto Rico and the M&P was added to the approved officer purchase list by the Lebanese government. Golden added, Robust sales of our M&P15 tactical rifles also continued throughout the third quarter, benefitting from heightened demand at the consumer level. We expanded the M&P tactical rifle family with the introduction in January of the M&P15-22 semi-automatic sport rifle. The M&P15-22 has been designed along the same, popular lines as our entire M&P15 family of tactical rifles; yet, it is chambered in the much more economical .22 caliber ammunition. We believe this new product will appeal to consumers seeking an economical alternative in this very popular product category. We continue to win new business in the law enforcement market as well, both domestically and internationally, and in the third quarter we added law enforcement agencies in Miami, North Carolina, and Mexico to the growing list of police departments we serve. To date, over 213 domestic law enforcement agencies have approved or adopted the M&P15 rifle for duty use. Building upon the popularity of the M&P line with law enforcement, we also introduced at SHOT Show the M&P4, a fully automatic capable version of the M&P tactical rifle, designed exclusively for law enforcement and military applications.
---
M&P15-22 Tactical Rifle
# 811030 MSRP $576.98
| | | | |
| --- | --- | --- | --- |
| BRAND: | Smith & Wesson | # OF MAGS: | 1 |
| MODEL: | M&P 15-22 Tactical Rifle | SAFETY: | 2 Position Receiver Mounted Safety |
| TYPE: | Rifle | SIGHTS: | Adjustable |
| CALIBER: | 22LR | BARREL LENGTH: | 16" |
| FINISH: | Hard Coat Black Anodized | OVERALL LENGTH: | |
| ACTION: | Semi-Automatic | WEIGHT: | |
| STOCK: | 6 Position Collapsible | PACKAGING: | |
| CAPACITY: | 25+1 | FEATURES: | A3 Style Flat Upper Receiver |
| CHOKES: | | FEATURES: | Quad Rail Handguard, Functioning Charging Handle |
| CHAMBER: | | BUTT PLATE: | |
| MUZZLE: | | RECEIVER: | Lightweight, High Polymer Upper & Lower |
---
My sources inform me that some time in January Smith & Wesson will begin to offer the M&P 15-22 with a threaded muzzle. The Sku # for this new model is 811033
---
Smith & Wesson has added magazines for the M&P 15-22 to their online store. Check them out here. SKU: 404850000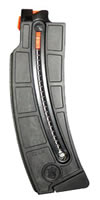 ---
M&P15-22 Barrel Thread Converter for Non Threaded Muzzle
This onthe net. It appears to be an adaptor to solve the problem of installing a flash hider or muzzle brake on the M&P 15-22. If a visitor purchases this I would appreciate images of it installed.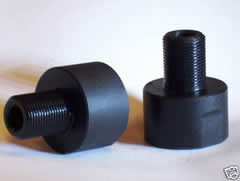 ---
M&P15-22 Barrel Nut Wrench
---
M&P15-22 Tactical Rifle Reviews, Articles
Below is a collection of articles and reviews from the web of the Smith & Wesson M&P 15-22.
---
---