Olympic Arms K22 .22LR AR-15 Rifles:
---
Olympic Arms K22 Press Release
While standard centerfire ammunition is becoming more readily available as time goes on, prices do not seem to be coming down much. Bulk 5.56 and .223 are again available if you look in the right places, the cost is still such that a long day at the range with the family can cost hundreds in ammunition alone. Enter the 22 LR.
Training with the same firearm you use for protection or security with an inexpensive alternative caliber is a huge plus. But sometimes these black rifles can be intimidating, and getting new and especially young shooters involved in shooting sports with the world's most versatile firearm platform is a huge plus for the entire shooting industry. While this is certainly not a new concept, you'll see that the design itself, and the configurations we have wrapped around that design are.
22 conversion kits paint the sky these days. There are just about as many options and styles of 22 conversions and dedicated uppers for the AR15 as there are AR15 brands. While Olympic Arms has been producing 22 conversion kits and the unique 22 Partner system for years, we felt it was time not just to re-emphasize the 22 long rifle units we manufacture, but to re-engineer the entire 22 rimfire system and re-enter the AR15 rimfire marketplace with a whole new lineup of dedicated AR15 22 LR firearms that will take the industry by storm!
We are not talking about a new upper conversion here; we are talking about a whole new lineup of dedicated AR's FOUR new firearms to be specific, and conversion uppers as well. Take a look below at all the details.
Tom Spithaler, Sales Director, Olympic Arms, Inc.
---
Olympic Arms The K22 RTM Rimfire Target Match
The K8 Target Match rifle (20" SS bull barrel, flat-top etc.) is one of Olympic Arms' best sellers. The K16 is currently our #2 best seller. The UM1 Ultramatch® and its world famous broach-cut barrel is still the undefeated champ of out of the box, factory production AR15 accuracy. So what do all of these great sellers have in common? They are all match-grade flat-top set-ups ready for serious shooters who expect serious accuracy shooters. Shooting bulls-eyes with a rimfire, as most of us know can be a challenge. The K22 RTM is designed to meet that challenge.
The K22 is the first in a series of 22 rimfire AR15 products that Olympic Arms began designing just a few months ago. Basing our progression in technology on the tried and tested military M261 design, the K22RTM uses the same carrier assembly, but the difference in accuracy, reliability and longevity is in the barrel. Rather than have the old two piece bolt carrier system as in the M261 and our Rimfire Adapter Kit, the K22 system uses a dedicated barrel.
In this case, rather than having a separate 'chamber end' on the carrier assembly that inserts into a standard 223/5.56 chamber, this system has a one-piece barrel with the appropriate chamber-end machined right into the barrel. There is no barrel extension like in a traditional AR15 barrel, and no separate chamber end on the carrier; the rimfire carrier assembly mates right into the barrel!
Standard with a 17.5" bull barrel free-floated under an Olympic Arms manufactured aluminum free-floating handguard, the K22RTM sports a mil-spec picatinny flat-top upper receiver, standard AR15 lower (no modified parts in the lower whatsoever), and a gas-block ready barrel turned to the standard bull diameter of .930". Ready for your choice of optics, the K22 is begging for a day on the bench or in the prairie dog field with your kids!
MSRP: $830.70, and remember, you are buying a complete AR15 in 22LR, not some plastic conversion system that just resembles an AR. Other manufacturers offer 22 LR AR 'clones', but this is the real deal. Take off the 22LR upper and interchange with any other Olympic Arms caliber conversion offered. Lifetime Warranty, 60 Satisfaction Guaranty, and proudly made in the USA!

---
Olympic Arms K22P
Having more options is always better. The K22P gives its owner lots of options! Manufactured with a 6.5" 416 SS button rifled match-grade barrel this is a surprisingly accurate pistol. It is threaded with standard mil-spec 1/2x28 tpi threads and comes outfitted from the factory with a standard A2 flash suppressor.
First the obvious; this is a pistol, not a rifle or carbine. More than that, it is an AR15 pistol, fully interchangeable with all other standard AR15 upper receivers and parts. having been build on a standard AR15 lower receiver, the K22P can take other uppers such as the 6.5" barreled pistol caliber uppers (9mm, 40 S&W, 10mm, and 45 ACP). It can also house the OA93 (no recoil tube necessary) or the K23P upper with the short recoil tube out the back.
But more than that, as is allowed under federal law, this pistol, as with any pistol, can be legally converted into a rifle/carbine configuration (requires a minimum 16" barrel and buttstock assembly), and back into a pistol again, any time you like.
Whether you make any changes at all, or just shoot the K22P as is for all it's lifetime, you are in for a FUN, EXCITING, and INEXPENSIVE day at the range for everyone in the family.
MSRP: $895.70: Ships with ballistic nylon pistol assault case, and one 28 round Blackdog Magazine. Lifetime Warranty, 60 Day Satisfaction Guaranty -Proudly Manufactured in the USA.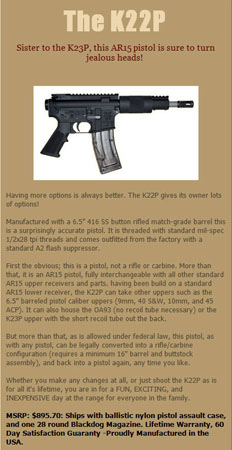 ---
Olympic Arms K22SL-Survival Lightweight
Backpacker, hiker, plinker? This lightweight 22LR Caliber AR15 may just be the rifle for you. Shoot inexpensive 22 LR all day, and CARRY IT all day! Weighing just over 5 lbs, this little carbine folds up and stows just about anywhere. Utilizing the new Olympic Arms dedicated 22LR system for the AR15, this carbine with a lightweight contour SS barrel is very accurate. The 16" 416 SS barrel is a match-grade button-rifled barrel, threaded 1/2 x 28 tpi and outfitted with a standard A2 flash suppressor and surrounded by a slotted Olympic Arms manufactured aluminum free-float tube to help secure even greater accuracy. But the coolest feature of all is the side folding stock. Just like a Galil, FN-FAL and other rifles, the stock hinges and folds to the side of the rifle.
Lightweight, compact, and inexpensive to shoot, the K22SL is a TRUE AR15, and filly interchangeable will and other AR15 uppers or caliber or configuration changes, and will be loads of fun and service in the fields of your adventure.
MSRP: $882.70. Ships with hi-cap Blackdog magazine, in an OD Green Olympic Arms hard case.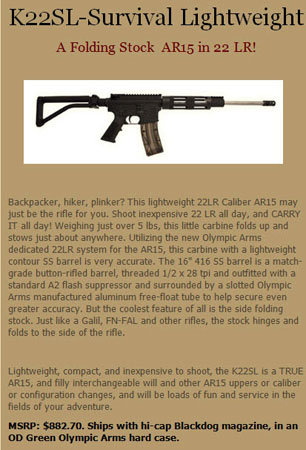 ---
Olympic Arms K22-M4
What better way to train LE, military and security personnel that use the AR15/M16 M4 carbine, than with a REAL M4 carbine in 22 LR? The K22-M4 is the same size, weight, shape, and fell as the 5.56 version of the same rifle. As a matter of fact, after a day of training with the 22LR upper, you can switch it back to 5.56 in seconds!
Also, consider having the K22M4 assembled just the way your duty M4 is configured, or for that matter, order your K22-M4 with the 5.56 upper at the same time to create what we called the "Tactical Pack".
The K22-M4 features a 16" button rifled match-grade SS barrel, threaded muzzle, collapsible M4 stock, and your choice of picatinny flat-top or A2 upper (shown with A2). This cool carbine ships with an OD Green hard case, sling, and hi-capacity Black Dog magazine. Remember, this is a REAL AR15 chambered in 22LR, not just a look-alike. MSRP: 1,38.70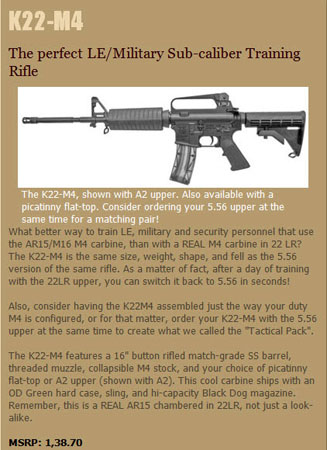 ---