CLARK CUSTOM GUNS RUGER 10/22:

---
CLARK CUSTOM RUGER 10/22
Lorem
---
CLARK CUSTOM GUNS RUGER 10/22 BARRELED ACTION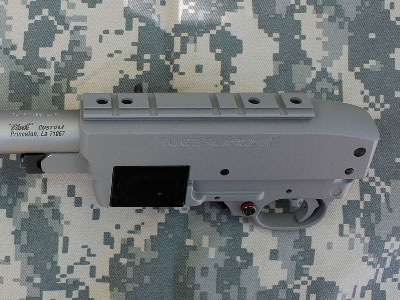 Clark Custom Ruger 10/22 Barreled Action Specifications:
Heavy Contour Lothar Walther Barrel, Stainless .920″ Diameter 21.5″ long
Competition Trigger Job
Trigger Stop
Weaver TO9 Scope Base
1/2″ Group Size @ 50 Yard Guarantee
---
BELL & CARLSON BR-50 ODYSSEY AMBIDEXTROUS RUGER 10/22 STOCK

I wanted a stock with BENCHREST RIFLE qualities that had somewhat of a SNIPER RIFLE appearance. Unfortunately being left handed my choices are limited. After much internal debate I settled on the BELL & CARLSON ODYSSEY AMBIDEXTROUS RUGER 10/22 STOCK "BR-50". It seemed to fit the bill.
BELL & CARLSON BR-50 ODYSSEY AMBIDEXTROUS RUGER 10/22 STOCK SPECIFICATIONS:
Fiberglass with Kevlar and graphite, black, textured finish. 27-½" (70cm) long. Lop Adjustment - 12-¼" (31.7cm) to 13-7/8" (35cm). 1" (2.5cm) drop at comb, + 1-½" (3.8cm) comb adjustment. 3 lbs. 5 oz. (1.5 kg) weight.
---
RUGER 10/22 SCOPE – Nikon ProStaff Rimfire 3-9 x 40 Black Matte Riflescope (BDC 150)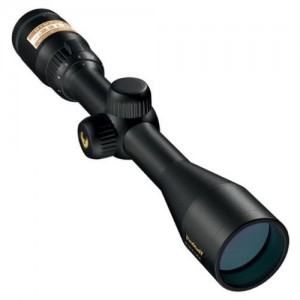 I started off with the plan on getting a LEUPOLD RIMFIRE SCOPE when these NIKON ProStaff RIMFIRE 3-9 x 40 RIFLESCOPE (BDC 150) became availabe and with a $50 rebate. So far I have been pleasantly surprised.
Precise, repeatable, 1/4-inch at 50 yards reticle adjustments
BDC150 reticle is .22-LR specific
Paralax-free at 50 yards
Fully multicoated optics
Nitrogen filled and o-ring sealed
Hand-turn reticle adjustments
Waterproof/Fogproof
Quick focus eyepiece
Uses 1″ rings
---
WARNE MAXIMA QD RINGS
I bought the WARNE MAXIMA QD RINGS on the suggestion of a friend who's opinion I value very much. The WARNE MAXIMA QD RINGS are impressive in their quality and priced with other premium SCOPE RINGS.
---
HARRIS HBRMS 6"- 9" BIPOD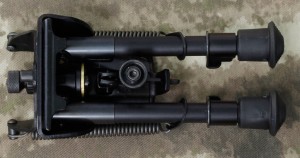 The bipod was an easy choice. I bought a HARRIS BIPOD HBRMS 6″-9″ The height was the hardest thing to settle on. In the end I decided if it was too low I could always put something under the legs. If it was too tall it would be difficult to shoot with properly.
The part that I wasnt sure of was how to mount the sling stud in the alumium channel if the stock. As it turns out this mounting system, a T-Slot is a standard. Well actually two standards. There's an American Mount HB6A and a European Mount HB6. The Odyssey stock utilizes the European style 3/8″ HB6.
---
RUGER 10/22 MAGAZINE BX-25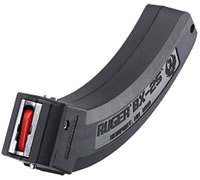 It has taken decades for RUGER to release a high capacity RUGER 10/22 MAGAZINE. This new magazine labeled the BX-25 has been worth the wait. It's simply the BEST RUGER 10/22 MAGAZINE available today.
---

---